Meet Our Founder: Allan Tucker
THEN: 1988
O so very long ago, Allan Tucker -- our founder -- awoke one morning and said, "Yup. Sonic Solutions. It's the real deal."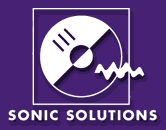 But of course it wasn't yet the real deal. Not in 1988 it wasn't. No one had ever heard of Sonic, and the system did not work very well, had few features, was painfully slow, and crashed if you looked at it funny.
"Perfect," Tuck said.
Smitten with the system's possibilities, he arranged with Bob Doris and Mary Sauer -- founders of then-fledgling Sonic Solutions -- to co-develop the pre-mastering feature set and help debug the program. He agreed to become Sonic's east coast development (beta) site in early 1989, and forever established TuckerSound at Foothill Digital as New York City's first Sonic installation.
---
BEFORE THEN: 1971
We take you now to Studio B at the late, great Bell Sound Studios on West 54th Street in NYC. (The first studio with 12-track recording; on 2" tape!). The year is 1971. Allan Tucker is an apprentice engineer: There's Tuck making the coffee. There he is setting up microphones and keeping the session log. There he is keeping those very, very long studio hours. There he is getting his first professional album credit, assisting on the first KISS record.**
Oh, and there's young Tuck losing control of a fast-forwarding Ampex 351 deck ("top flanges are for sissies," says he) one night at 4a.m., destroying a newly edited safety master. It was probably the sight of all those carefully crafted edits being eaten and mangled that guided him to a career of "fixing it after the mix."
But soon A.T. is recording and mastering albums for the likes of Gil Evans, John Lee Hooker, John Cage, Ursula Oppens (her watershed "The People United" for Vanguard Records, where Tuck is a staff engineer in the late '70s), Solomon Burke and Etta James. And who can forget (or who can remember) the 5-million-selling single "Shame Shame Shame," which he records and masters for Platinum/Chess Records in Englewood, NJ, sometime around 1975.
** For those playing along at home, get out your copy of KISS and look at the very last line of credits: "Where's Drago?" That's Tuck. Don't ask.
---
AND NOW: the present
Tuck has always believed that every project deserves a world-class sound. He believes that budget concerns should not thwart that goal. TuckerSound fulfills these ideas every day on every album by offering an unbeatable combination: creative and musical mastering using the finest equipment in a comfortable, reliable setting.
Producers and artists clearly agree. Projects that can afford to go anywhere choose to come to TuckerSound. We are honored and delighted. We do master a good record.
Ask any of these Grammy nominees:
Al Kooper
Ravi Coltrane
John Lee Hooker
Lou Reed
Jefferson Starship
Judas Priest
McCoy Tyner
Elvis Presley

Gonzalo Rubalcaba
Boston
Johnny Cash
Herbie Hancock
Earth Wind & Fire
Joe Henderson
Patricia Barber
Romero Lubambo
Get a different perspective on the TuckerSound discography
at AllMusicGuide >>